2012 Stevie Awards for Women in Business
---
DENVER, CO – DECEMBER 6, 2012 – For Immediate Release
Theresa Bradley-Banta, Leading Real Estate Investor/Mentor Winner Of Stevie® Award for Women In Business Entrepreneur of the Year – Business Services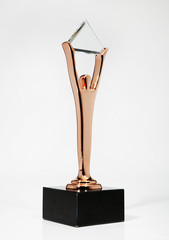 Theresa Bradley-Banta, Founder and CEO of Theresa Bradley-Banta Real Estate Consultancy, is a Winner of the 2012 Stevie® Award for Women in Business, the leading national award for women in business, as Entrepreneur of the Year, Business Services, one of the award's most important and competitive categories.
Awarded to Bradley-Banta in a lavish ceremony attended by hundreds of leading business owners from across the country and outside of it, the award was given to Bradley-Banta for her unique and much admired stance in the world of real estate. The unique Bradley-Banta point of view involves a "no hype" approach to investing in real estate. "Wherever I go," says Bradley-Banta, "people approach me and tell me that they want to invest in real estate. The vast majority – outside of the real pros – think that all they have to do is put in some money and voila! they will 'get rich quick.'
"That focus comes from the many books on the market that promote the monetary aspect of real estate investing without giving investors and potential investors good, solid advice – and mentoring – on just how to go about investing in real estate; and then once they have learned, to teach them how to advance to the next level and the next. The key is always to work with and put together the best team – no matter how much it costs – and to always have a team. You also have to know that a good deal attracts money – I've never seen a deal that made solid business sense where the money wasn't available – and it doesn't necessarily have to be yours."
Bradley-Banta is one of the best known investors in the Denver area; she has also invested widely across the U.S. – in New York, Pennsylvania and Ohio. Throughout her years in investing – she began in 2004 and has consistently doubled her income and net worth since then – she has become equally well-known as one of the country's leading mentors in the field of real estate. The Award was given to Bradley-Banta in large part for her dedication to investing, yes, and succeeding at it, but really for helping others – beginners and professionals alike – learn what they need to learn to become better and better investors and to go to the next level of investing as part and parcel of this learning. Profits simply increase as a matter of course.
On December 7, 2012, Bradley-Banta is launching her first book titled Invest In Apartment Buildings Profit Without The Pitfalls. The book is a complete compendium of all that one needs to know to invest in multifamily dwellings – often the "starter" investment for those who take that important next step after investing in a residential property that is not a primary residence. Apartment buildings were also what Bradley-Banta predicted would become the hot market in real estate when she began – and indeed they have.
As 2012 ends and 2013 begins – and the housing market is the one shining star in the economic recovery according to November/December housing reports – Bradley-Banta is evermore in demand for her selfless mentoring regarding the investing skills she uses to great acclaim. In this mentoring capacity she stands alone – and she has won this major U.S. business award as a result.
For more information, visit www.theresabradleybanta.com.
Review Copies of Invest In Apartment Buildings available on request.