by Theresa Bradley-Banta
I often marvel at the multifamily real estate investing gurus who insist you can buy an apartment building and sit back and collect the rent while someone else does all the work. Don't you?
First of all it's not smart. Second you don't want to discover the inmates are running the asylum after it's too late, metaphorically speaking.
Here's the rub. Somebody's got to manage the manager. Smart multifamily real estate investors know apartment building operations inside and out—it's the only way to stay on top of what your team is doing, or not doing.



The Multifamily Property Checklist for Operating Apartment Buildings will help you:
Operate your property at peak performance
Provide a safe and well-managed property for your residents
Manage your multifamily management team
Conduct thorough due diligence
Plan for otherwise unexpected capital expenditures
I would have loved to have this checklist when I started investing in multifamily real estate. You'll be glad to have a copy in your investing arsenal!
Click on the link (or the image below) to download your Multifamily Property Checklist: An Owner's Guide for Operating Apartment Buildings.
Related Articles:

How To Manage Your Multifamily Property Manager
Hiring and Managing a Multifamily On-site Property Manager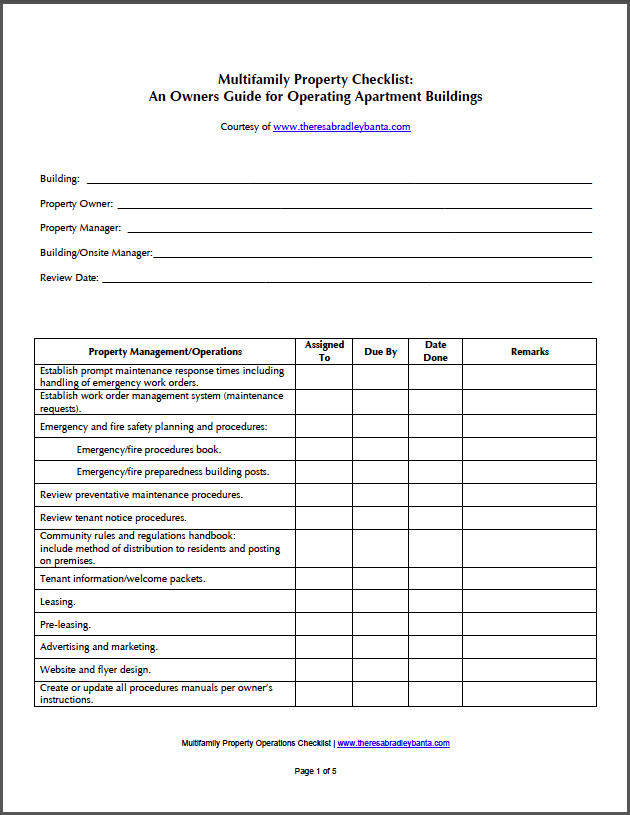 The following two tabs change content below.
Theresa Bradley-Banta writes about investing in real estate while avoiding the pitfalls that plague many new investors. She is a 2017 PropTech Top 100 Influencer and winner of 14 American and International real estate awards for her website and real estate investing programs. As featured on: The Equifax Finance Blog, AOL's Daily Finance, Scotsman Guide, The Best Real Estate Investing Advice Ever Show, Stevie Awards Blog, Rental Housing Journal, and Investors Beat among others.
Latest posts by Theresa Bradley-Banta (see all)