by Theresa Bradley-Banta
"How do I find the best real estate markets to invest in?"
It's one of the most often asked questions I receive.
When I wrote my article Best Cities To Buy Apartment Buildings I believe some readers expected me to tell them exactly which cities they should invest in.
I won't do that because:
There are very few cities where apartment investing is a "bad" idea.
It's best to buy locally when possible—especially if you are a new investor. Long distance property management presents special challenges.
Multifamily investors need to continually research and track their investment markets. You must know how to do this.
Your exit strategies demand that you know where your market is today and where it might be in the near future.
Your success depends on your personal investment strategy.
What Are Your Strategies Today? Tomorrow?

It's not likely that your investment plan is to keep a property until you die, leaving it to your heirs. It's not a bad strategy but it's unlikely. More likely your strategies will include:
Refinancing your property after you build equity or your loan terms demand that you refinance.
Selling your property when the time is right.
Knowing how to test markets is critical to your success—before you buy and after you own your property.
Timing is everything.

The Key Criteria for the Best Multifamily Investing Markets

When you research potential investing markets look for:
Solid job growth and employment—companies are hiring.
Improving economy.
Low unemployment.
Good to above average population growth and density with high in-migration rates.
Increasing rental rates.
Increasing leasing activity without tenant concessions.
Solid investment neighborhoods.
How do you find this information? You're in luck!
Checklist for Researching Real Estate Markets

The attached checklist gives you a list of the criteria to apply to each market you study.
And it includes 20 links where you can find the information you're looking for!
Click on the link and/or the image below to view and download your Checklist for Researching Real Estate Markets. You'll never look at a real estate market the same way again!
Contact us for a more thorough overview of this checklist and how it might apply to your investment and/or search for new markets. If you really want to know how to research real estate markets this is the stuff you gotta know.
Related Articles:

5 Ways to Quickly Screen Investment Property
How to Study Your Rental Market and Outperform Your Competition
When Is a Good Time to Invest in Apartment Buildings?
Another free download you definitely want to get:

Multifamily Property Checklist: An Owner's Guide for Operating Apartment Buildings
And some more absolutely free documents:

Free Multifamily Investing Resources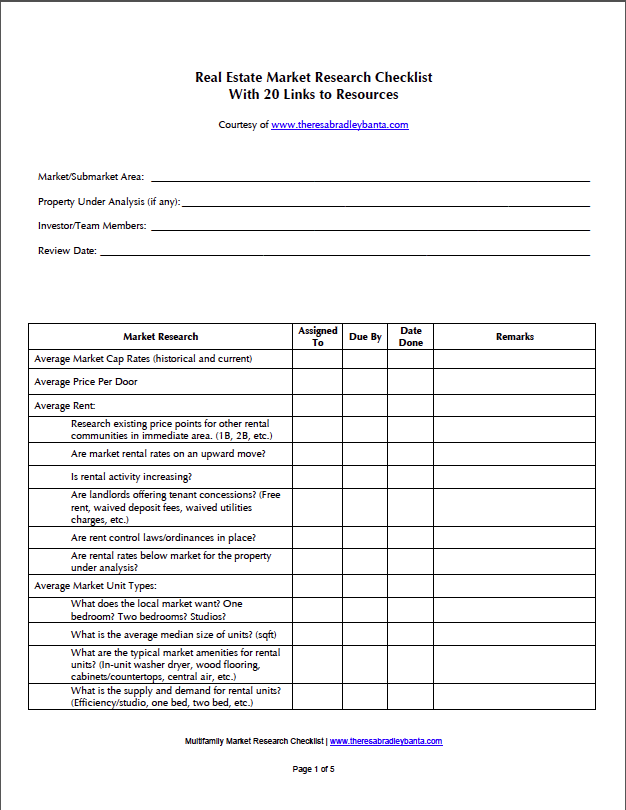 The following two tabs change content below.
Theresa Bradley-Banta writes about investing in real estate while avoiding the pitfalls that plague many new investors. She is a 2017 PropTech Top 100 Influencer and winner of 14 American and International real estate awards for her website and real estate investing programs. As featured on: The Equifax Finance Blog, AOL's Daily Finance, Scotsman Guide, The Best Real Estate Investing Advice Ever Show, Stevie Awards Blog, Rental Housing Journal, and Investors Beat among others.
Latest posts by Theresa Bradley-Banta (see all)