by Theresa Bradley-Banta
Forcing Appreciation On Multifamily Properties With a Value Added Strategy

I like to buy apartment buildings in need of improvements, but usually not in need of major renovations. Poor management and distracted property owners often lead to deferred maintenance—simple fixes that can dramatically force appreciation by raising income and lowering expenses.
When you raise the Net Operating Income on a multifamily property (typically called NOI = Income – Expenses), you raise the value on a property. Here are some tips on how to strategically renovate a multifamily property for profit along with some before and after pictures of apartment building renovations
Major Apartment Building Renovations

Some property renovations are costly and should be considered when you negotiate the purchase price.
Tips: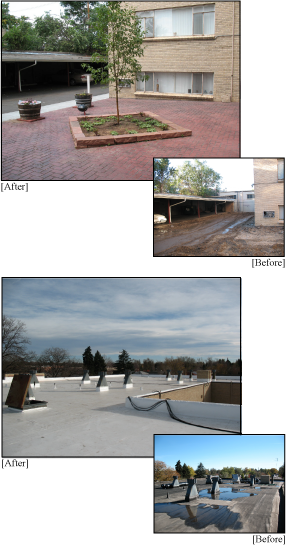 I negotiated a seller credit for repairs for the major renovations that needed to be done on this 29 unit apartment building. During contract negotiations the seller agreed to a repair credit to redo all of the asphalt, sidewalks, courtyard and roof.
This apartment complex is in the vicinity of a busy street. When we purchased the building the "courtyard" was a loading only zone in the back of the complex. By redesigning our courtyard with stamped concrete, landscaping, barbecue area and seating for the residents, we created a quiet space the residents could enjoy. This became a marketing tool when listing the units for rent.
This property had poor drainage after heavy rains. The new asphalt and sidewalks assured water drained away from the property and ultimately out to the city street.
Garbage trucks used the driveway on the North side of the property. To prevent damage to typical asphalt driveways we poured concrete on that section of the drive. Heavy garbage trucks will destroy asphalt.
We installed a bright white Durolast roofing system which had several advantages. The new roofing system came with a 15 year warranty that was transferable to new owners when we sold the property. This was a huge selling point. New roofs are a major expense.
Buildings with air conditioning can receive an efficiency rebate from the local energy company when they install a Durolast roofing system.

Cosmetic Apartment Building Renovations

Not all renovations are costly. Plan for these simple improvements in your acquisition budget.
 Tips:
This laundry room renovation was a simple one yet it had a significant impact on income. A friendly, clean environment ensured the residents actually used the facility.
Many apartment complexes come with a laundry lease in place where the owner splits the profits 50-50 with a professional laundry company. These leases run with the property, not the owner. Renegotiating the lease, or canceling before lease end, can lead to a large increase in income.
Great first impressions are a  must. When a prospective resident enters your building you are looking for the "Wow" factor.
Wood floors, period carpeting (as in this 1950's apartment building) are a relatively inexpensive way to attract the right demographic of renters and to lease units quickly.
In this property we also installed an entryway security system. It's an inexpensive, telephone based door locking system used by residents to allow entry to visitors.
Interior hall properties (versus exterior walk ups) can be used as a marketing tool to attract residents. You are providing an extra layer of security to the community by providing an extra set of locking doors to apartment unit entry.
Knowing your particular "market sizzle", will help you rent apartment units for top dollar and will help you make your renovation decisions easily. Market sizzle comes in all shapes and sizes. Your submarket renters might want free WiFi, wood floors or in unit washers and dyers. Study your local apartment market.
This apartment building is located in a market where wood floors are the top priority to residents. This particular property had oak floors throughout, but the wood floors had been covered with carpeting for decades. Of course, we knew the wood was there before we bought the property. Refinishing the floors to their original beauty was our top priority when renovating and updating the apartment units.
A simple two tone paint job, new lighting, and the installation of ceiling fans was all that was required to create a beautiful living space for our residents.
New shrubbery, signage, blinds and landscaping can have a major impact on your ability to attract new residents.
One of the most often overlooked cosmetic enhancements is to keep a clean building. Some highly trafficked areas such as laundry rooms and entryways get dirty fast. It's a great idea to make sure your management company pays special attention to these areas.
Related Articles
3 Inexpensive Rental Property Landscape Makeovers
Great Tips for a Multifamily Renovation
Study Your Rental Market and Outperform Your Competition
Reduce Multifamily Operating Costs With Green Strategies
The following two tabs change content below.
Theresa Bradley-Banta writes about investing in real estate while avoiding the pitfalls that plague many new investors. She is a 2017 PropTech Top 100 Influencer and winner of 14 American and International real estate awards for her website and real estate investing programs. As featured on: The Equifax Finance Blog, AOL's Daily Finance, Scotsman Guide, The Best Real Estate Investing Advice Ever Show, Stevie Awards Blog, Rental Housing Journal, and Investors Beat among others.
Latest posts by Theresa Bradley-Banta (see all)