by Theresa Bradley-Banta
Not long ago a client of mine was getting ready to make an offer on an apartment building. I kept quizzing him about what needed to be done before he actually submitted his offer.
With a sigh he said, "I wish there was checklist for all of this stuff."
Well Jim, now there is. Wishes do come true.
The attached Multifamily Investing Checklist gives you a list of the criteria to check off as you investigate a potential multifamily investment acquisition.
And it includes links to free information and bonus documents.
The Multifamily Investing Checklist covers:
Your team
Property and market research
Financial analysis
Acquisition financing
Due diligence
It's a great addition to your multifamily real estate investing library.
Multifamily Investing Checklist

Click on the link and/or the image below to view and download your Checklist: Before You Buy an Apartment Building or Multifamily Property. You'll never wonder what the next step is again!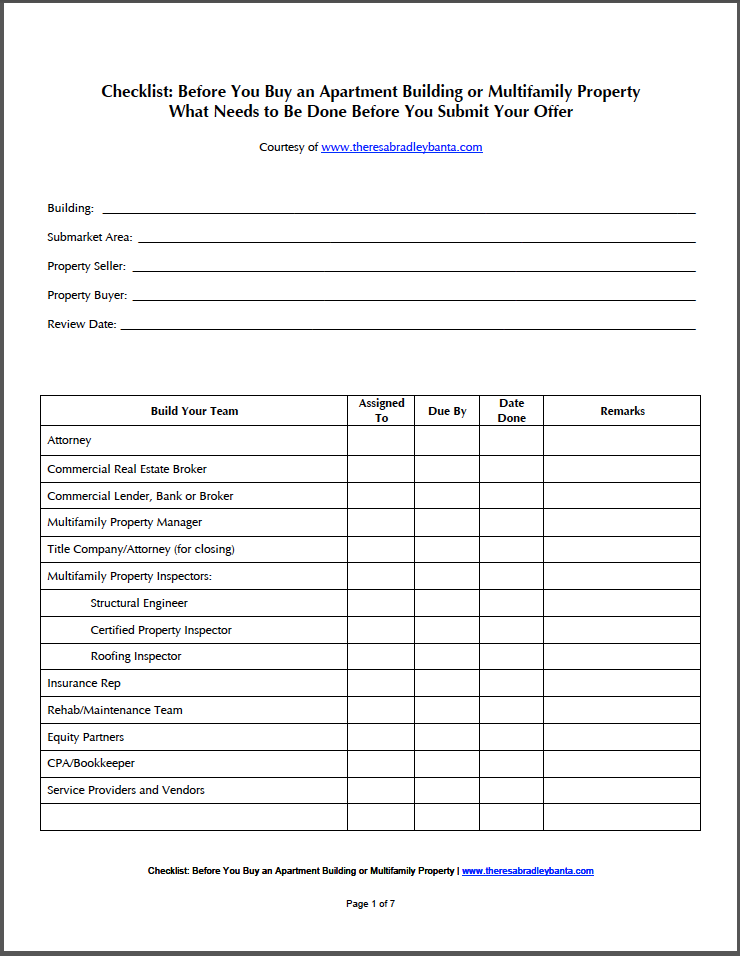 Contact us for a more thorough overview of this checklist and how it might apply to your search for investment properties.
Related Articles:

A Checklist for Researching Real Estate Markets
How to Prepare for the Multifamily Loan Application Process
Multifamily Property Checklist: An Owner's Guide for Operating Apartment Buildings
***
The following two tabs change content below.
Theresa Bradley-Banta writes about investing in real estate while avoiding the pitfalls that plague many new investors. She is a 2017 PropTech Top 100 Influencer and winner of 14 American and International real estate awards for her website and real estate investing programs. As featured on: The Equifax Finance Blog, AOL's Daily Finance, Scotsman Guide, The Best Real Estate Investing Advice Ever Show, Stevie Awards Blog, Rental Housing Journal, and Investors Beat among others.
Latest posts by Theresa Bradley-Banta (see all)