by Theresa Bradley-Banta
It's the most often asked question I receive: How do I know if a deal is a good one or not?
This question is almost impossible to accurately answer without:
Detailed property operating income and expenses.
Comprehensive capital expenditure projections.
Today we're going to talk about expenses.
Expenses as listed in an apartment building offering memorandum (brochure)

Apartment building offering memorandums (sales listing brochures) typically list property operating expenses in general, broad categories almost always like this:
Insurance.
Property Management.
Property Taxes.
Utilities.
Repair and Maintenance.
Administrative.
As I said, fairly broad categories. Until you get your hands on the seller's historical property operating numbers it's almost impossible to get an exact understanding of the property.
And it's your job to get this information.
Your bank or lender will want to see historical cash flow figures for the property going back at least one year, preferably two. So should you.
How do you get them? Simple. Ask for them. Don't take "no" for an answer. When I analyze deals I ask to see these numbers up front. Before I agree to a showing and before I consider making an offer on an apartment building or any multifamily property.
Hidden expense numbers

The problem with broadly categorized property expenses is that you cannot drill down to specific costs. Without itemized line items you can miss red flags. Expenses can be left out.
For example the simple category "Utilities" will include:
Gas,
Electric,
Water,
Sewer and,
Trash (sometimes included in utilities).
Without line item expenses it's almost impossible to knowledgeably analyze a deal. And to accurately assess potential problems and opportunities.

Operate from a good baseline

When I look at properties in any market I analyze at least five similar deals to the ones I'm interested in purchasing. This gives me a good baseline for typical property expenses.
Such as, if I see an atypically high cost for "Water" I know I need to investigate further. This could be a red flag for serious plumbing issues.
But without a baseline I might completely miss the water bill is high in comparison to similar properties.
Here's another example. The price for pest control is often included under the "Repair and Maintenance" category. Pest control is a common property operating cost but the number is typically fairly low. An unusually high number could be a red flag for a serious problem such as bed bugs, which can infest an entire property. Bed bugs are becoming more and more common. Even five-star hotels and new Class A apartment buildings can—and do—become infested.
Again, without historical numbers and a baseline to compare expenses to, you might miss noticing an abnormally high pest control number.
Always get a property's historical operating data

As I've already said, always, always use the historical property operating data when analyzing properties. I cannot emphasize this enough.
It is not enough to rely on the broadly categorized expenses presented by a seller or by a commercial broker.
Typical apartment building operating expenses

The following spreadsheet will give you a good idea of the number and variety of expenses you will incur as an apartment building owner. This spreadsheet includes two properties totaling 45 units.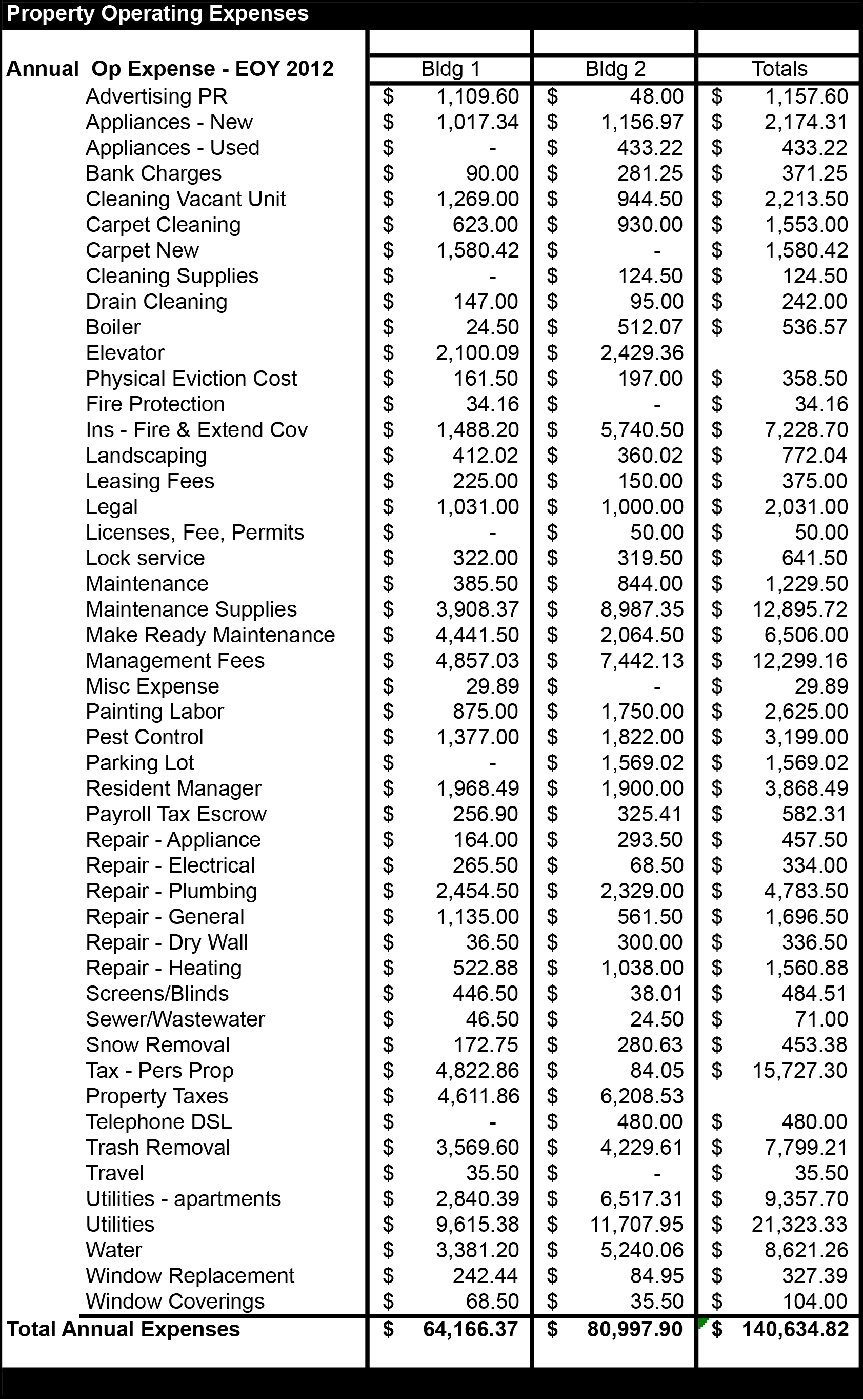 Unexpected apartment building operating and renovation expenses

As a new apartment building owner you will incur unexpected expenses. That's a promise.
It's almost impossible to foresee every eventuality. You might simply overlook an expense. That happens. But with some practice analyzing deals—as many as you can—you will be become more educated and less likely to miss something.
Until you become proficient with property analysis, work with a multifamily mentor or apartment building owner operator to analyze any deal you are considering making an offer on.
In addition to mentoring programs I offer one-on-one private consulting for specific deal and property analysis. Please visit my Real Estate Mentoring and Consultancy Services page for more information. Or, why wait? Contact me directly with any questions you have.
Related Articles

5 Big Multifamily Deal Analysis Mistakes to Avoid
Creating an Annual Operating Budget for Your Multifamily Property
Multifamily Property Checklist: An Owner's Guide for Operating Apartment Buildings
***
The following two tabs change content below.
Theresa Bradley-Banta writes about investing in real estate while avoiding the pitfalls that plague many new investors. She is a 2017 PropTech Top 100 Influencer and winner of 14 American and International real estate awards for her website and real estate investing programs. As featured on: The Equifax Finance Blog, AOL's Daily Finance, Scotsman Guide, The Best Real Estate Investing Advice Ever Show, Stevie Awards Blog, Rental Housing Journal, and Investors Beat among others.
Latest posts by Theresa Bradley-Banta (see all)